Posted in News, Team News on May 19, 2023.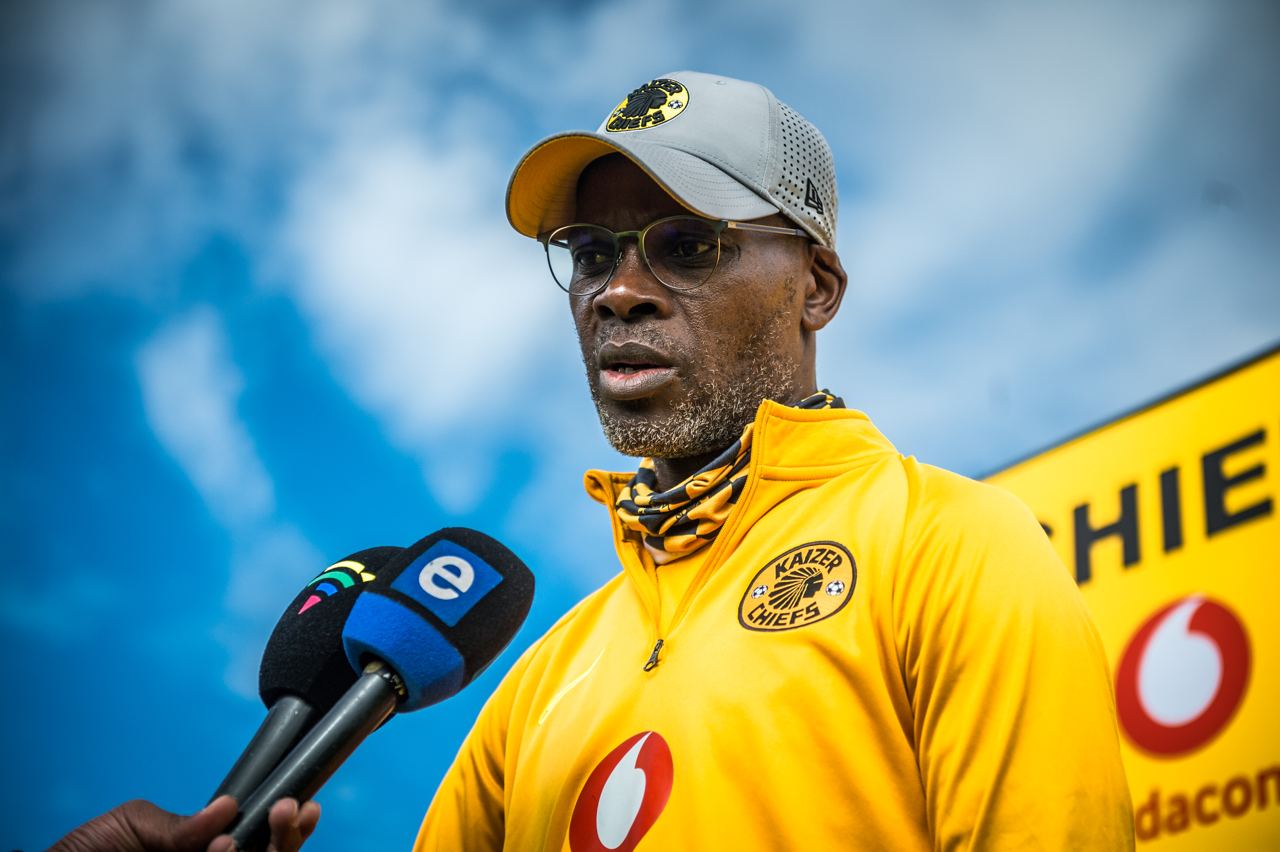 Before any thoughts of projecting into next season, Kaizer Chiefs head coach Arthur Zwane's attention remains firmly on clearing the final hurdle of this term, a visit from Cape Town City with fourth place in the DStv Premiership standings at stake.
Amakhosi currently hold the position and will need to avoid defeat at FNB Stadium on Saturday to prevent the fifth-placed Citizens from overtaking them.
"I am looking forward to the game," he says, "We never stop hunting. As long as I have been a player and a coach who is part and parcel of Kaizer Chiefs, you always play to want to win, and we want to finish the season on a high."
The 2022/23 season has shown glimpses of what this team is capable of producing, although a variety of factors during the campaign have interrupted the progress Zwane had envisaged at the start last August.
"We've had our ups and downs. We have had moments when we were happy, where we saw things were coming right, and we had moments that gave us sleepless nights, in terms of not getting the results and also a number of injuries causing inconsistency with the starting eleven," he explains, "So, it has been a learning season, a very difficult one, but also a season that one can say, from a new squad and a new technical team, not bad at all. I am looking forward to improving things and getting better."
The coach knows it won't be easy against Cape Town City, who themselves still have some incentive to give some extra effort on Saturday.
"We are playing against a team that has got a very good technical team, very good players and has been doing very well. They are also playing to end the season well , which is why it is key for us to beat them," Zwane says, adding, "Then we can start looking ahead to next season."
Amakhosi have a last chance to close the season on a winning note, having suffered the heartache of not quite getting over the line in some season-defining games this past month and Zwane's man-management skills will take on increased importance as he tries to lift his players for one last battle.
As he points out, "We thought we could redeem ourselves against SuperSport. On the day, I don't think we applied ourselves the way we wanted to and we ended up on the losing side. Having said that, we just came from a Derby that took a lot out of us because we had put all our eggs in one basket, you know, because we wanted to go to the (Nedbank Cup) final at all costs and it did not happen."
"That might be a psychological factor when it comes to the players, and we thought maybe we could redeem ourselves against SuperSport, but again we couldn't get the result so it's still not a train smash, it's a setback. What is key for us now is to go into this game making sure we are focused to get the points and forget about the past. It is history and it didn't go our way, but whatever happened, happened for a reason."
Apart from taking valuable lessons, Zwane is not one to dwell on what has gone before, preferring to see the next game always as the most important one.
"As for the mood in the squad, obviously we have tried to help the players to forget about what occurred in the past three games. At the end of the day we have to focus on what we can do and what is in front of us that we can deal with, and that is the game against Cape Town City and we are concentrating on being ready for the game," he says.
It is no secret that sections of the Amakhosi fanbase have expressed frustration and impatience with some of the team's performances this season, something Zwane can relate to, as he too would have liked to see his team better placed right now. However, he expresses huge appreciation for their loyalty and support through difficult times, and promises them that they will be rewarded for their patience.
"I have seen them supporting the team through thick and thin. I have seen them supporting the team even when things were not going our way. I know how they want things to improve in the squad. We are also worried about the situation because we thought we could make the situation better, even far better but when you are in the phase that we are in, there will always be those hiccups and challenges here and there.
"But, they are always in our thoughts . We always want to make them happy and, most definitely, the time will come when they will be happy. And when they are happy and smiling, they will forget about days like this," he predicts.
Tickets for this crucial match are on sale at www.ticketpros.co.za online, and in store at Spar Supermarkets, Sasol filling stations, Postnet and various outlets, at R60 per ticket. Kick-off for the match is 15:00 on Saturday 20 May at FNB Stadium in Johannesburg.