Posted in KC Tickets, News, Team News on May 18, 2023.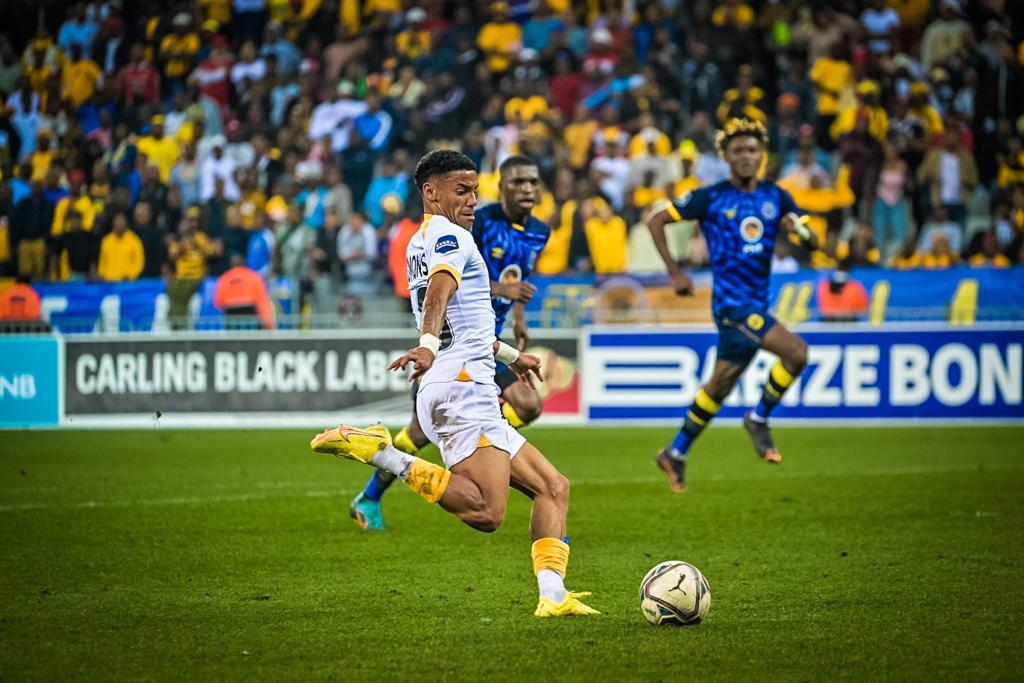 Dillan Solomons will bring down the curtain on his first season at Kaizer Chiefs against Cape Town City in the final DStv Premiership fixture for 2022/23 at FNB stadium on Saturday, and looks back positively on his debut campaign, while acknowledging that there is vast room for improvement.
"Playing for Chiefs is a big achievement for me. Being part of this team is a great experience," he tells www.kaizerchiefs.com, "It has been a relatively inconsistent season for the team, but we are building to create something special, so hopefully we can win something next season. It was heartbreaking to not win any silverware playing for Chiefs but these things happen in football and , as I say, hopefully we can put that right next season."
The 24-year-old feels generally satisfied with how things have gone for him at Naturena since signing from Swallows FC almost a year ago.
"I feel my overall form has been good this season, a little inconsistent here and there, but injuries didn't help me. For me, I think in your first season with a new club you are trying to adapt to the environment, and I think I did pretty well with that. Hopefully, next season I can kick on and give the fans something to smile about," he explains.
Having been primarily deployed as an attacking right fullback for much of the campaign, injuries to key players, such as Keagan Dolly, prompted coach, Arthur Zwane to use Solomons in a more advanced role in recent matches, to good effect.
"I have played as a right winger at age-group level, so it's in me. When you play there you know what to do. Also, playing at fullback has helped me to assess some attacking moments how to play a situation," he says, adding, "You know, whatever the team needs, I am always there to contribute, hopefully in a positive way."
Solomons assures all Amakhosi fans that the players a fully determined to win the match on Saturday, having failed to win in the corresponding fixture in Cape Town earlier in the season.
"We are in good spirits this week. We're looking forward to the game," he declares, "Even though it's the last game of the season, people might think our minds are not here and we're thinking about holidays, but this is a very important game for us. We owe them (Cape Town City) one. When we went to Cape Town, we didn't get the result we wanted. Now they are coming to us so we have to kill them off this weekend.
"We have to make FNB (stadium) a fortress. When teams come there, they have to be scared, so hopefully we can put some fear into Cape Town City on Saturday and then get the win."
Solomons is familiar with many of the opponents he will face and he respects their ability. However, he hastens to point out that the key to victory lies with his team's ability to convert the numerous chances they create into goals.
"I know a lot of their players," he notes, "I have played with some of them and I have seen others play. They are a very good possession-based team. They like to keep the ball and offensively, they are very good. We will have to be on our toes for that and be defensively strong and, when we get our opportunities to score, we have to take them. I think that's one of our biggest issues. We create so many opportunities but haven't been taking them so, hopefully, this weekend we can get it right and score some goals."
Solomons' first year as a Glamour Boy has brought home to him just how much the Club means to the millions of Amakhosi Faithful. It is something he appreciates deeply, as he calls on them to "please keep supporting us".
He says rewarding the fans for their loyalty is a massive motivation for them to bring success back to Kaizer Chiefs: "They have been with us since day one and have been very supportive of me, personally, and the Club. I know they love the Club so much and, hopefully, we can give them something next season. But before that, we want to do it this weekend and give them something to look forward to when we start again," he concludes.
Tickets for this crucial match between the Glamour Boys and The Citizens are on sale at www.ticketpros.co.za online, and in store at Spar Supermarkets, Sasol filling stations, Postnet and various outlets, at R60 per ticket. Kick-off for the match is 15:00 on Saturday, 20 May at FNB Stadium in Johannesburg.